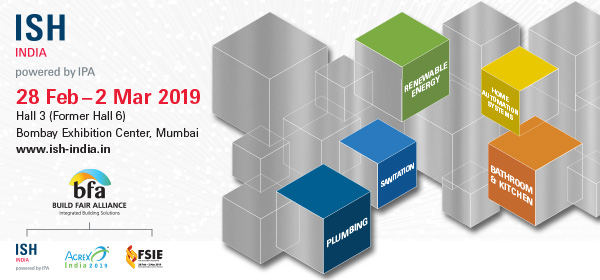 Today, we talk to Mr. Atul Sanghvi – Executive Director, CERA Sanitaryware Ltd. about the effects of Make in India & the future trends of the sanitation industry
Connect with them at ISH India powered by IPA from
28 Feb – 2 Mar, 2019, Bombay exhibition center.
Register to visit now
1. Where do you see India's Sanitary ware market proceeding in the next 10 years?
The Sanitary ware market will continue to grow in India for the next 10 years. The market is also evolving, with sustainable technology and products. CERA has launched products which help save water and further research by its R&D on bringing out more eco-friendly and user-friendly products is a continuous process.
2. With your company being one of the leading forces, what are your plans for global expansion?
CERA is a home-grown brand, primarily made in India and largely made for India. Traditionally, have been exporting to developed markets like the USA, Europe, etc. albeit not sizeable volumes. Other export markets are the Gulf, Africa, etc. Our focus remains India currently. However, we will look at other global markets too.
3. How do you deal with competitors? Do you have a winning strategy/brand mantra?
Yes, CERA has its success mantra. The very fact that CERA has been growing fast, despite stiff competition from both Indian and International brands, shows the inherent strengths of brand CERA, its quality, strong distribution network and deep sales and after-sales penetration.
4. What were your biggest obstacles?
The sluggishness in realty is the key obstacle. However, we feel that soon, the housing construction will get a head-start, which will help CERA at a faster pace in the coming years.
5. Has the Make in India initiative helped you grow your business? If yes, how?
CERA is already a 'Made in India' brand. It employs over 3,000 people. We further help young start-ups in developing suitable technology for CERA, like robotic glazing, 3D printing, etc. which area indigenously co-created.
Register now to meet Mr. Atul Sanghvi, Executive Director,
CERA Sanitaryware Ltd.
| | |
| --- | --- |
| Disclaimer: This email is sent to you by Messe Frankfurt Trade Fairs India Pvt. Ltd., located at Gala Impecca, 5th Floor, Chakala, Andheri Kurla Road, Andheri East, Mumbai 400 093 | |